One of the things that Clif and I have started doing for client, and even our internal projects, is to start projects by designing wireframes instead of full-scale Photoshop designs.
A wireframe is a static design that is not nearly as detailed as what you may expect from normal site designs. They focus on what the elements of the site will be and how they will be laid out. The primary outcome of wireframing is to have a set of basic designs that will begin to lay the foundation for the user experience and provide a great layout for the designers and developers to work from.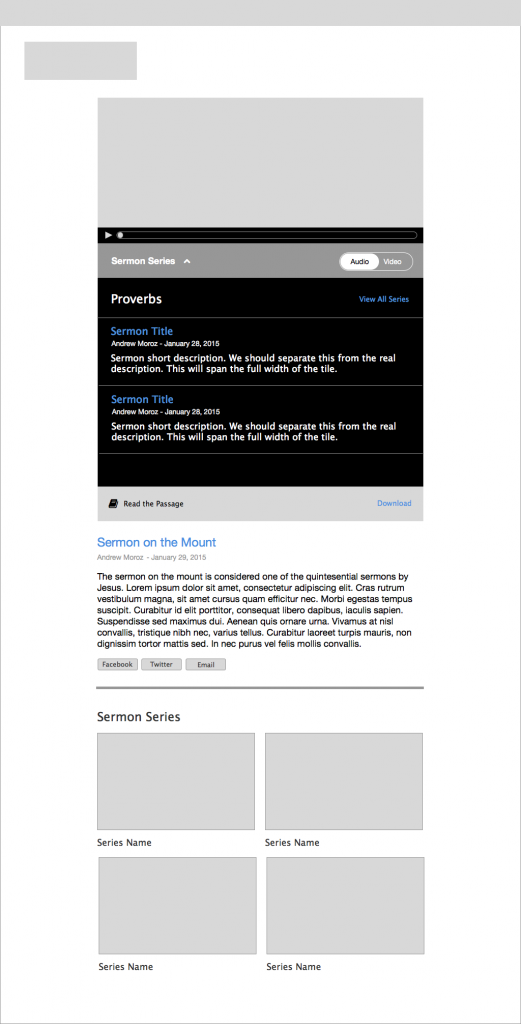 Building Confidence
The most important thing that wireframes offer is confidence. They provide confidence to the client that they are going to get what they want and will be able to visually see the foundation of what their site or application will become, without being distracted by what it will look like. Wireframes cut out the worry and anxiety clients often feel waiting for the detailed designs, and provide confidence to the designers and developers to start work knowing that everyone has agreed upon the direction and the foundation.
Increasing Speed
Starting with wireframes also allows the design and development phases to take less time and start sooner. Designers will have a very solid foundation to work from to make it visually appealing and developers will be able to start work, without waiting for the detailed designs, to build the foundation. Ideally, starting with wireframes will decrease the overall time of the project and increase everyone's confidence in the process. This means happier clients and more fun projects for the team.
One Small Step
Starting with wireframes isn't a comprehensive solution and it can't guarantee your project won't have any bumps. You still have to be wary of scope creep and ensure that the project stays within budget and on the timeline. All projects are liable of running off course no matter what process you follow. Nothing beats staying focus and lots of communication, but wireframes help with the process.
Have you ever used wireframes in a project before? If so, what did you learn from it and did you find it helpful?