As we start our fifth year as a company, we're excited to announce a big change: As of March 2017, we have changed our name to Objectiv. This is the cumulative result of a year of work. (It turns out rebranding is not easy!)
When we began in 2013, Clif Griffin Development was very literally the development efforts of Clif Griffin. Fast forward to 2017 and that landscape has changed significantly. We're now a team of four people (and counting!) and our vision and direction has changed substantially.
With that new vision, we needed a new identity. We worked with the seriously talented designers at Hundredweight Co. to choose a new name and identity. After a few months of false starts and rabbit trails, they helped us work through the process of picking a new name and building a brand around it. We could not be more happy with the results.
With our new brand comes a new vision. We not only want to be the best at what we do, we also want to be radically generous. We want to share the tools and knowledge we use to build websites, and give back to the Open Source community.
We have many things planned over the coming months: new product announcements, open source libraries, new media formats. We hope you'll join us for the ride!
All the best,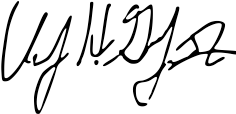 Clifton Griffin
CEO
Objectiv